Welcome To The Home Of Naval Miniatures
View our Latest Releases here!
View our updated 2023 Catalog here!
This is the home of 1/2400 scale model ships. For the hobbyist and wargamer, ships, ships and more ships! Over 500 historical naval miniatures to choose from! These durable epoxy castings come in a realistic gray color.

We also own ULTIMATE N SCALE (model railroad N gauge trucks, trailers, flatcars,etc). When requesting a catalog, please specify product line (PANZERSCHIFFE or ULTIMATE N SCALE).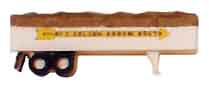 Send For Our Free Catalog
(Request Panzerschiffe or Ultimate N Scale or Both)

Letter:

Panzerschiffe, P.O. Box 26074, Akron, Ohio 44319
Email:
panzerschi@aol.com
(Must place the words "Panzerschiffe Catalog Request" or "UNS Catalog Request" in the subject box.)